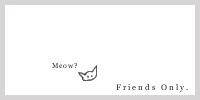 .
Members Only. Friend Comm to see icons, layouts and graphics.
Rules:
oo1.) Read the profile of the comm for all the rules basic and comm info.
oo2.) This was originally an open post comm but unfortunatly due to events we closed all posts. You aren't allowed to post here unless the maintainers give you permission. If you would like to be able to post here comment below with brief info on yourself and sample of your work. If you wish to be affilated comment here as well.
oo3.) Do not comment here requesting we add you. Click here it is fairly simple if you wish to see everything...
oo4.) Steal nothing. Especially the designs on the comm. I made it myself.
oo5.) Be forwarded that we are "amatuers" when it comes to icon/graphic making. We are new to the stuff so it will be a while before we advanced to great iconers like some big comm here on LJ. It would mean a lot to us if you still friend this comm and appreciate them and not mock us of "a job poorly done" k-thxs. It is keyboardsmashing.
oo6.) We like to have fun with what we do. We cross-post at other comms to highlight our works. Only those posts would be open for two days after cross-posting.
yours truly,
lust_faeri